Intro
Watch my video on this topic with Mushtaq Malik herein. We estimate no more than 5000 Ahmadi's in all of Nigeria by 2021. There seems to be 10-20 Ahmadiyya places of worship. The first one is unknown. Read about the Ahmadiyya jamaat stole a mosque in 1922 and later lost it. Also read about the 3rd and 4th sect of Ahmadis that was created in Nigeria. Read about how some of the earliest converts to Ahmadiyya from Nigeria quit once they learned of MGA's prophethood. Read how the Qadiani and Mirza family was rejected by the majority of the Ahmadi's in Nigeria by 1925. By the 1970's, we estimate that there were barely 5000 Ahmadi's in the entire country, in fact, one of the most famous Ex-Ahmadi's was a professor named Dr. Balogan. He wrote extensively about the Qadiani-Ahmadi's in the 1970's. And finally, read the detailed research work that we have done on the history of Ahmadiyya in Nigeria. In 2012, the Nigerian government took control of many Ahmadiyya-operated schools, read about it here.
In 2021, the Amir of the Ahmadiyya jamaat in Nigeria is The Amir, Alhaji Alatoye Folorunso Azeez.
_____________________________________________________________________________________________
The missionary-in-charge in 2021
The Missionary in charge is a Pakistani, Maulvi Afzaal Rauf. Another missionary is Maulvi Azeem Ahmad. Maulvi Nasir Mahmood is the Central Missionary in charge of Abuja, Kogi, Nasarawa and Benue States.
The Amir is Alhaji Abdul-Azeez Folorunso Alatoye. DR. MASHHUD ADENRELE FASHOLA was the Amir for a long time before him.
Maulana N.M. Naseem Saifi became the Amir and Missionary incharge from 1947 to 1965. Maulana Muhammad Ajmal Shahid in 1972 who remained in office till 1982 (See RoR of 1989).
_____________________________________________________________________________________________
How many Ahmadi mosques are there in Nigeria?
1—Per the ROR of 1989, the first ever Ahmadiyya place of worship in Nigeria was at 45, Idumagbo Avenue, Lagos on and fully built and opened on Monday, August 6, 1945 (see page 26). You can find it here on Google maps.
2—-Baitur-Raheem Mosque in Ibadan inaugurated in 2008. There is also a sign on the wall which is selling a Fazl-e-Omar Ahmadiyya Comprehensive College.
3—-Ahmadiyya Central Mosque in Sabo Quarter, Ilaro Town, Ogun State

4—-Mubarak Mosque in Abuja, which is the last Ahmadiyya mosque, built in the first century of the Ahmadiyya Caliphate. Capacity: 500. Very Small.

5—-Tahir Mosque in Ojokoro, Lagos, Nigeria. Capacity: 300. Very small.

6—-Ahmadiyya Mosque in Orita, Ilaro Town, Ogun State[100]
7—-Owode Mosque in Ogun State[100]
8—-Ahmadiyya Muslim Jamaat Mosque, Road 311, Festac Town, Lagos, Nigeria. This seems to be a broken building.
9—Ahmadiyya Mosque AMIKANLE JAMAAT,  49 Gbenga Alao Cres, Alagbado, Lagos, Nigeria.
10–AHMADIYYA MOSQUE KADUNA, Tudun Wada, Kaduna, Nigeria.
11—Ahmadiyya Muslim Jama'at Mosque, Obalende. A very small mosque. Roughly 300 capacity.

_____________________________________________________________________________________________
Ahmadiyya land and various buildings
1—-Hadeeqa-e-Ahmad, a plot of land bought for Annual Conventions.
2—-Auxiliary Guest Houses in Lagos
3—Ahmadiyya College in Kano. Ahmadiyya College, Kano, Nigeria
5—Fazl Omar Ahmadiyya School, 62 Saviour St, Lagos Island, Lagos, Nigeria.
6—Fazil Omar Nursery And Primary School, 2 Saviour St, Lagos Island, Lagos, Nigeria.
_____________________________________________________________________________________________
Ahmadiyya hospitals
1—-Ahmadiyya General Hospital in Apapa[101]
2—Ahmadiyya Muslim Hospital, Kano, Nigeria.
_____________________________________________________________________________________________
Presses and newspapers
Ahmadiyya Muslim Weekly newspaper (first Muslim weekly newspaper in the country) called 'The Truth'[101]
_____________________________________________________________________________________________
Ahmadiyya Jamia's? 
1—–Jamia Ahmadiyya (Missionary Training College) in Ilaro, Ogun State[101]
_____________________________________________________________________________________________
Ahmadi's claim to have translated the Quran into several Nigerian dialects, including Yoruba, Hausa, Igo, Etsako and Tiv.
_____________________________________________________________________________________________
1945
After losing control of many mosques, the Ahmadiyya movement finally built its own. Per the ROR of 1989, the first ever Ahmadiyya place of worship in Nigeria was at 45, Idumagbo Avenue, Lagos on and fully built and opened on Monday, August 6, 1945 (see page 26). You can find it here on Google maps.

_____________________________________________________________________________________________
1951
The first ever Jalsa Salana is held.
_____________________________________________________________________________________________
1970
13 April 1970: Hazrat Khalifatul Masih III (rh) met with the then head of the state of
#Nigeria
, Major General Yakubu Gowon. Huzoor (rh) also addressed the University of Ibadan.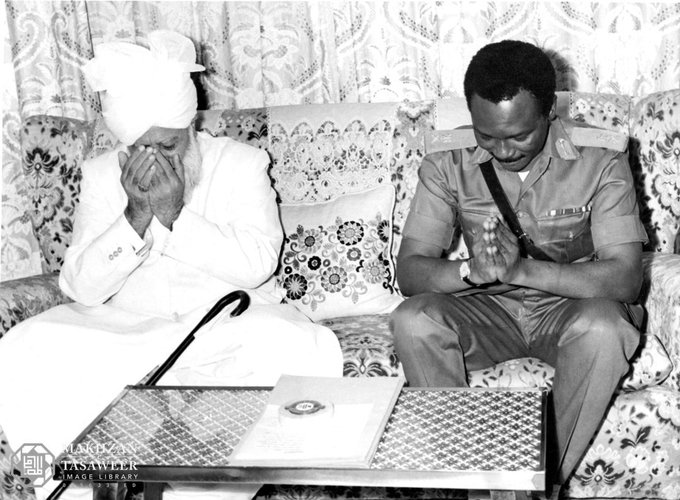 _____________________________________________________________________________________________
2012
Ahmadiyya Schools in Nigeria
Ahmadiyya Schools in Nigeria

AHMADIYYA SCHOOLS ACROSS THE COUNTRY (Nigeria)
Presently all primary schools established under the Tahrik-i-Jadid have been taken over by the respective state governments. The schools are generally known as Fazl-i-Omar Primary Schools. There are quite a number of them in Lagos, Ogun, Oyo and Kwara States. Presently all primary schools established under the Tahrik-i-Jadid have been taken over by the respective state governments. The schools are generally known as Fazl-i-Omar Primary Schools. There are quite a number of them in Lagos, Ogun, Oyo and Kwara States. The secondary schools spread all over the country by 1989 numbered at least eleven. Seven of them have been taken over by the respective state governments leaving four in the control of the Nusrat Jehan Scheme of the Jama'at.The four secondary schools directly under Jama'at control as at 1989 are described below:FAZL-I-OMAR AHMADIYYA SECONDARY SCHOLS KANO:
Established January 1970, the pioneer Principal was Mr. R. Saqib a dedicated missionary teacher from Pakistan who arrived March 1, 1970. The Principal had been manning the school creditably since then. The school has become well established and it was approved within four years of its existence. The school's popularity in the areas of sports and academic are quite remarkable. The has led to the school being reffered to simply as "Ahmadiyya".AHMADIYYA COLLEGE UMAISHA PLATEAU STATE:
Umaisha was a very rural and remote area where no voluntary organization was interested in establishing secondary schools. The place was infested with mosquitoes and lacked all amenities. Yet Jama'at Ahmadiyya through dedicated members established the college in 1973. Prominent among those who sacrificed for its establishment was Alhaji A. Q. A. Matajo who directed the construction work and the pioneer Principal, Brother Irfan Sadiq.AHMADIYYA COMMUNITY SCHOOL, ARA (PLATEAU STATE):AHMADIYYA COMMUNITY SCHOOL, ONDA (PLATEAU STATE):
The establishment of the two schools was sequel to the efforts of a former Deputy Governor of Plateau State, Alhaji Yakubu Danladi who approached Ahmadiyya Jama'at for assistance in establishing Muslim oriented secondary schools. Specifically he requested the Jama'at to establish the schools at Ara and Onda respectively. The Jama'at rose to the occasion and the formal opening of the two schools took place consecutively on March 16 and 17, 1981 under the Chairmanship of the Amir Maulana M. A. Shahid supported by eminent guests including top government functionaries and traditional Chiefs. The Pioneer Principal at Ara was Mubarak Ali Tahir and that of Onda was Abdullah Tahir both dedicated Missionary teachers from Pakistan.The secondary schools taken over by various state governments include:
• Ahmadiyya Secondary School Minna (Niger State).
• Ahmadiyya Secondary School Ayegunle Gbede (Kogi State)
• Ahmadiyya Secondary School Ago Iwoye (Ogun State)
• Ahmadiyya Secondary School Ogbagi Akoko (Ondo State)
• Ahmadiyya Secondary School Owo (Ondo State)
• Ahmadiyya Secondary School Oni (Ogun State)
• Ahmadiyya Girls Secondary School Gussau (Sokoto State).When the schools were being taken over, the Christian religious organizations demanded heavy compensation from the state governments and requested their dedicated teachers to withdraw from the schools so taken over. However, Jama'at Ahmadiyya neither demanded nor received any compensation in respect of its schools. Their dedicated teachers were also requested to continue their dedicated services to the respective state governments in those schools. This gesture impressed the then North-Western State Government where two Ahmadiyya Schools at Minna and Gusau were taken over.Source: http://www.ahmadiyyang.org/index.php?option=com_content&view=article&id=5&Itemid=69
https://themuslimtimes.info/2012/04/14/ahmadiyya-schools-in-nigeria/
_____________________________________________________________________________________________
2018
Nigeria: Ahmadiyya begins Garri production
https://themuslimtimes.info/2018/03/02/nigeria-ahmadiyya-begins-garri-production/
•Orders members to produce what they consume 
Ahmadiyya Muslim Jama'at Nigeria (AMJN) has started the production and sale of its Garri (Cassava Flakes) in the country, under the brand name "MAAN Foods".
The Garri processing initiative came after the bumper harvest of acres of cassava at Ahmadiyya farm in Awe, Oyo State, Southwest Nigeria. Ahmadiyya Garri The National President (Amir Sahib) of the organization, Dr. Mashu'ud Adenrele Fashola, present several brands of the Garri-Cassava flakes at the Jama'at headquarters, Ijaye-Ojokoro, Lagos, South-west, Nigeria during the Elders group National Workshop reently. Leader of the Agricultural and business team, Sadr (Head), Majlis Ansarullah (Elders Forum), AMJN, Engr. Abdul Waheed Mojeed Adeoye expressed satisfaction on the progress made on the Garri production. "Presently, our focus is on garri, we have other programs concerning food production. Once we are able to ensure mass production and marketing techniques to Nigerians across all strata, then we include others. For the time being we want to see how the common food item can be of advantage to the communities." "You know this type of food is largely consumed in the Eastern and Western part of the country, so the demand is very high." He explained that plans are underway to increase production for international market but first to satisfy Nigeria market. "Global market which we intend to be there might not be immediate but within the shortest time we would have all what it require, we will look into it, package it in line with government regulation," adding that the jamaat had secured over two hundred (200) hectares of land at Awe, Oyo State for the production. Dr. Fashola, a Development Economist", however, advised government to look inward and focus on agriculture saying it remains the only way to improve the economy and reduce poverty level to the barest minimum. He directed all Ahmadiyya schools to produce some food items for students and teachers' consumption within the next three years. Currently, Mahmood Ahmadiyya College, Ijede now produces vegetables and cat fish for consumption.
Read more at: https://www.vanguardngr.com/2018/03/ahmadiyya-begins-garri-production/
Nigeria: Ahmadiyya begins Garri production
_____________________________________________________________________________________________
2018
https://themuslimtimes.info/2018/04/05/nigeria-aca-70-and-counting-ahmadiyya-college/
Anwar-ul Islam College (formerly Ahmadiyya College)
http://thenationonlineng.net/aca-70-counting/
TODAY, Anwar-ul Islam College (formerly Ahmadiyya College) Agege (ACA) turns 70. Its story is not different from that of other mission schools. It was founded by men who believed in education and in the development of the mind  through  qualitative learning. The road to the founding of ACA in 1948 was rough. It was a period when Christian secondary schools dotted the landscape. There were no Muslim secondary schools then. It was a big challenge for the fathers of the Islamic faith who witnessed what was going on.
They watched as their children were either denied places in the Christian schools or forced to change their names and embrace Christianity in order to enter those schools. To them, it was the height of humiliation for a man to be made to denounce his faith just because he wanted to go to school. The belief back then was that Muslims were not at home with Western education. The thinking was once they have gone to primary school and spiced it with Arabic education, that was the end of the matter.
This profiling of Muslims as no-good when it comes to Western education did not go down well with leading members of the Ahmadiyya Movement in Islam , the forerunner of the Anwar-ul Islam Movement in Nigeria. They believed that Muslim kids would hold their own against their Christian counterparts if provided a level playing field. These men started thinking about establishing the first Muslim secondary school not only in the country but in West Africa. It was a daunting task, but they gave it their all. Although these men are no more with us today, the seed they sowed 70 years ago have continued to grow.
These great men were Alhaji Saka Tinubu, Alhaji Jubril Martins, Alhaji Issa Akangbe Williams, Alhaji Nurudeen Bakre Kenku, Alhaji Bakare Disu Oshodi, Alhaji K. D. Oshodi, Alhaji Y. P. O. Shodeinde, Justice Lateef Dosunmu,  Alhaji Fanimokun and Alhaji Allison, among others. They built ACA with their sweat and blood. They turned virtually everything they had over to the school. ACA owes whatever it is today to these eminent men. If not for them, the idea would have remained a dream. They made the dream come true by pooling resources to establish the school.
Seventy years on, their dream of a great school remains undying because of the steadfastness of many who came after them. My own set was particularly lucky as we entered the school in January, 1973, three months to the celebration of its 25th anniversary on April 5 of the same year. The silver anniversary was celebrated with pomp and ceremony. As bright-eyed kids we had fun like we never did before.
To ensure that the school took off on a sound footing, Alhaji Martins and Alhaji Bakare Oshodi went on an educational tour of the Middle East and some Muslim countries in 1946. It was a fruitful tour as they got some scholarships for the training of teachers. The Principal of principals, Alhaji Jimoh Adisa Gbadamosi under whose wings many generations of students were groomed, was one of the  beneficiaries of the scholarships. In a piece titled: My stewardship with the college, Alhaji Gbadamosi recalled: "In September, 1949, I proceeded to the British Isles to pursue, on full scholarship of the Ahmadiyya Movement in Islam, a degree course in Arts and Diploma in Education. With gratitude to God, I returned home in October, 1954 as a qualified graduate teacher with my colleagues, Alhaji R. A. Folami and Alhaji R. A. Balogun, who also completed their academic and professional courses successfully''.
The three played great roles in the life of Ahmadiyya College, which name was changed to Anwar-ul Islam College in 1976 shortly before Alhaji Gbadamosi was redeployed to Jubril Martins Memorial Secondary School at Iponri as principal. He swapped places with Alhaji Balogun, who was brought to Agege. Alhaji Gbadamosi had succeeded Alhaji Folami at Agege in 1960. Of the trio, only Alhaji Gbadamosi aka Oga is still alive today. He was 91 on March 18. The story of ACA is one of struggle and determination. It started off at 4, 6 and 8, Olushi Street, Lagos Island, on April 5, 1948. Houses 4 and 6 were donated to the school by Alhaji Martins and Alhaji Kenku; House 8 belonged to the Movement.
The school came to be because of the commitment of these men and other like minds who came after them like Alhaji Babatunde Jose, who also led the Movement in the late 60s and early 70s. Olushi was too small for the kind of school the founding fathers had in mind. So, in 1942, the Movement acquired 87 acres of land in Oniwaya,  Agege, where the school stands till today. Its take-off at Olushi was almost marred because it could not get a graduate to head it as principal as required by law. Eventually, the Movement's ''tortuous search'' for a graduate ended when it got a Ghanaian, Mr J. I. Thompson Hagan, for the job.
To mark the 70th anniversary,  a public lecture titled : ''Child education : A lasting legacy'' will be delivered today at the school hall by Dr Abaniwonda of the Lagos State University (LASU). The lecture will be preceded by a press conference. There is cause for the college to celebrate because it holds a pride of place among secondary schools in the country. Though 70, it has achieved what many colleges which are older than it have not achieved. In academics and extra-curricula activities, the school is not a push over.
Where will the school be in the next 30 years? By then, it will be 100, an age, which many of the schools it rubs shoulders with, have since attained. At 100, ACA will not be less the school it is today. The school remains standing because of the solid foundation laid by its founders. It has had its ups and downs, especially following the acquisition of mission schools by the government in 1978. Things have since turned around for it for good following the return of the schools to their owners. The school can only go higher and higher in order to keep the dream of its founding fathers alive. And that is the only way it can continue to live up to its motto, which is  Aut Optimum Aut Nihil (Either the best or nothing).
source:
_____________________________________________________________________________________________
2021
2021—Mirza Masroor Ahmad admits that the target goal for Ahmadi converts in Nigeria is 4000 for 2021
Every year, the Khalifa announces hundreds of thousands of converts in Africa every year adding upto millions of Ahmadis in Africa. Yet, we are often left wanting for what the Africa Jamaat is all about [1,2,3]. A lot of questions loom around the actual population of Ahmadis globally as well, and attempts at estimates can be limited at determining millions of Ahmadis in Africa.
Interestingly, Mirza Masroor Ahmed had something to say in his meeting with Lajna, Nigeria on 21st February, 2021 that can shed some light on the issue.
Let's begin by letting the respected Ahmadi members of the sub know that there are tabligh targets just like there are chanda targets. If someone says that the missionary work is run like a pyramid marketing scheme, I am sorry if it sounds disrespectful, but the similarity is uncanny and I wouldn't be pointing it out if Ahmadi people don't keep rejecting facts. From the article:
Secretary tabligh reported next. Huzooraa asked her what the annual target for new converts was, to which she replied it was 4,000 new converts. Hazrat Amirul Momineenaa responded by saying, "Allah the Almighty bless you and make you achieve this target". Huzooraa  asked what plan was in place to enable the department to achieve this target. She said they aimed for each Lajna members to convert at least one person to Islam Ahmadiyyat. To this, Hazrat Amirul Momineenaa said: 
"First, you should ask your amila members to bring one bai'at. If amila members, at the national level and the local level and regional level, do tabligh and get one convert each, then you can easily achieve 25% of your target, insha-Allah."
I don't see anyone talking about guiding people to the truth here. This is hardcore sales. Get people to buy in seems the clear motivation. Nothing about let people know, explain the message and they'll decide for their soul. Nope. Convert them. Everybody get somebody to buy.
One must appreciate that KM5 is keen to remove discrepancies in the convert and tajnid figures.
Having reported on the total membership of Lajna Imaillah Nigeria, Hazrat Amirul Momineenaa said there should be accuracy in numbers, especially bearing in mind the number of converts that are reported on a yearly basis. If the numbers did not correspond, Huzooraa said, then there should be a proper and thorough study of where the discrepancies were so as to avoid them in the future.
Moving on to Tajnid and population in Nigeria:
Addressing secretary tabligh, Hazrat Amirul Momineenaa asked about the method of collecting tajnid as it was very low and not in accordance with convert reports. Huzooraa said that the tajnid and the number of new converts should correspond with each other and such flaws in the tajnid database should be permanently eradicated.
It's not unusual for tajnid to be less than the convert reports. My own experience with the Jamaat structure has been that somehow many converts don't want to associate with the Jamaat right away even if they accept Mirza Ghulam Ahmed sahab as Promised Messiah and Mahdi. Jamaat has to contact them and pull them into the web of social structures through persistent efforts by officials and Murabbis. This sort of humanizes the legends and myths of a superior Ahmadiyyat in Africa. It also alludes that there might be less Ahmadis in Africa than announced every year.
An interesting insight from the article is about the demographics of the new converts. We often hear how Ahmadiyyat has defeated Christianity in Africa:
Huzooraa enquired about the demographics of the new converts and what religious backgrounds they had converted from. Secretary for new converts reported converts were predominantly Muslim while other converts had converted from Christianity and paganism etc.
_____________________________________________________________________________________________
A new hospital in Kano
https://www.vanguardngr.com/2021/07/govt-hails-ahmadiyya-for-establishing-another-hospital-in-kano/
The Amir, Ahmadiyya Muslim Jamaat, Nigeria, Alhaji Alatoye Folorunso Azeez during the foundation stone laying ceremony of the clinic said the Jamaat through the present Medical Director of Ahmadiyya Hospital Kano has treated thousands of people on" Gift of Sight " scheme free of charge.
_____________________________________________________________________________________________
2022
Ahmadiyya converts and progress announced at the 2022 #ukjalsa #jalsauk
Mirza Masroor Ahmad announced 35,600+ conversions in Ghana.
_____________________________________________________________________________________________
Links and Related Essay's
https://en.wikipedia.org/wiki/List_of_Ahmadiyya_buildings_and_structures#Nigeria
Ahmadiyya converts and progress announced at the 2022 #ukjalsa #jalsauk
In 1922, the Ahmadiyya Movement stole the Adepopo mosque from the Quranic people in Lagos, Nigeria
The 3rd sect of #ahmadis were created in Lagos, Nigeria in 1922
L.B. Agusto was a pioneer member of the Ahmadiyya Movement in Nigeria but he renounced membership when he realized that members in Southfield, London believed founder, Ghulam Ahmad was a prophet
Who is Jibril Martin (1888-1959)? The Ahmadi in Nigeria who rejected the Qadiani Khilafat and created the 5th sect of #ahmadis
"Islam vs. Ahmadiyya in Nigeria" (1975) by Dr. Is'mail A.B. Balogan, B.A., PH.D. (London) University of Ibadan
_____________________________________________________________________________________________
Tags
#ahmadiyyainnigeria #ahmadiyyainwestafrica #ahmadiyyainafrica #ahmadiyya #ahmadiyyafactcheckblog #messiahhascome