Intro
Ahmadi's have involved themselves in politics for many years.  Then they cry persecution.  They got Zafrullah Khan appointed as foreign minister of Pakistan.  They also helped the British in Africa and got an Ahmadi appointed as president in The Gambia.
Some data
Ghulam Nabi Gilkar and Kashmir Freedom Movement', by Zahir-ud-Din, KashmirWatch.com, Oct. 8, 2009
Azad Kashmir — Eik Siasi Jaiza, page 113
http://sunatimes.com/articles/2288/Provisional-Government-of-Jammu-and-Kashmir
Justice Yusuf Saraf, Kashmiris Fight Freedom, page 1286

A meeting was held in Lahore on 02 October 1947 at a residence of Mirza Bashir Ul Ahmad (Head of Qadiani Sect), in which, apart from Ghulam Nabi Gilkar few local Kashmiris were also present. It was in this meeting a decision was taken to set up a Provisional Government. 2. This story is also confirmed by another writer Zahir — Ud Din, who wrote: '…When the Government of India ousted Nawab of Junagarh, the Government of Pakistan approached Mirza Bashir ud Din Ahmad of Qadiyan and authorised him to take appropriate measures with regard to Kashmir. Mirza called Gilkar to Lahore...'
The news of the Provisional Government was first broadcasted by Radio of Pakistan on 4thOctober; and published by many newspapers on 5 October. However, people generally make reference to the news published in 'Civil and Military Gazette' on 8thOctober 1947. Without influence and contacts of Mirza Bashir Ud Din Ahmed, there was no way Ghulam Nabi Gilkar or his 'Cabinet members' could have got this news broadcasted in Radio Pakistan or got it published in prestigious paper, Civil and Military Gazette.
Famous Kashmiri historian Justice Yusuf Saraf, who after doing extensive research on Modern history of Jammu and Kashmir wrote two volumes consisting of more than 1400 pages, comments on this 'historic event'. Yusuf Saraf confirms that in response to a 'Provisional Government' of Junagarh set up on 1stof October with Samal Das Gandhi as the President, a meeting was convened by Mirza Bashir Ud Din in Lahore on 2ndOctober. It was in this meeting it was decided to set up a 'Provisional Government of Jammu and Kashmir with Ghulam Nabi Gilkar as the President.
The above evidence clearly exposes this myth that the 'Provisional Government' was representative; and that the decision was taken by senior leaders. Justice Yusuf Saraf calls them Municipal level workers. However, if it was a real 'Government' and 'representative' too, and Mr Gilkar was a 'President' of a real government, then why would he go to an area (Srinagar) still controlled by the man (Ruler of Jammu and Kashmir) whom he 'deposed', although without any powers or legal authority? Ghulam Nabi Gilkar on instructions of his religious guru or leader declared the 'Provisional Government', but both Mr Gilkar and Mirza Bashir Ud Din Ahmed knew that they could not make any progress without active support of most popular Kashmiri leader Sheikh Abdullah. Ghulam Nabi Gilkar came to meet Sheikh Abdullah and had three hours long meeting with him to gain his support.
It is believed that Ghulam Nabi Gilkar was arrested on a tip off by Sunni political activists who thought it was a planning of the Qadiyanis to set up their government in Jammu and Kashmir. So 'President' of this Provisional Government' remained in prison and was released in January 1949 in exchange for the release of Brigadier Gansara Singh, last Governor of Gilgit Baltistan, who was in the Pakistani custody. It must be noted that with help of the UN both India and Pakistan declared a cease — fire on 1 January 1949.
Ghulam Nabi Gilkar who was behind Kashmir freedom movement + founder of #AJK & became the 1st #President of Azad Kashmir on October 4, 1947 was an #Ahmadi #Muslim but he's nowhere in the history of #AJK & #Pakistan bcz it has been distorted by haters of #Ahmadiyya as always.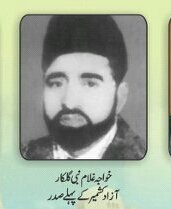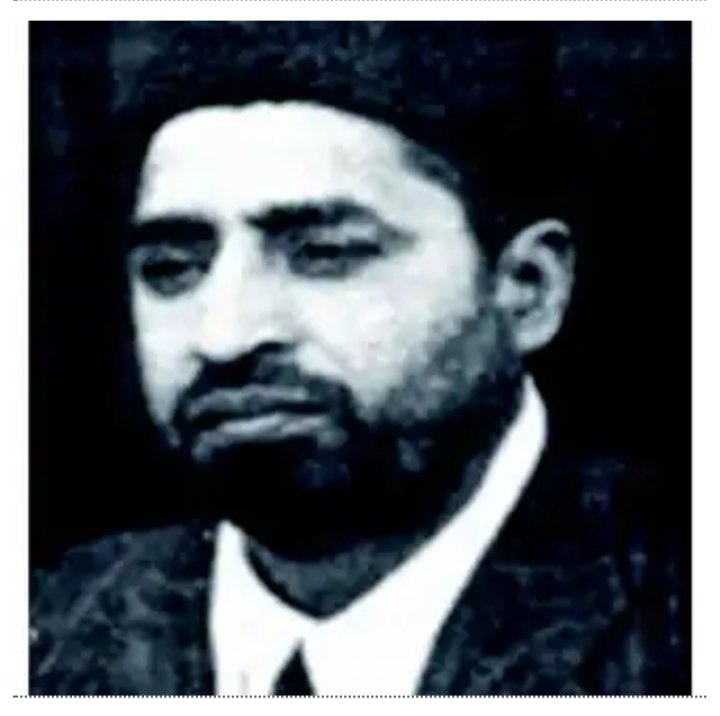 Reference
See Tarikh e Ahmadiyyat Kashmir
Tags
#ahmadiyya #ahmadiyyatrueislam #ahmadiapartheid #Ahmadiyyat #rabwah #qadian #meetthekhalifa #ahmadiyyat #muslimsforpeace #ahmadiyyafactcheckblog #nolifewithoutkhalifa #drsalam #AhmadiMosqueattack #AhmadiyyaPersecution #Sialkot #Mosqueattack