Intro
The Lahori-Ahmadi's seem to have gotten access to South Africa before their counterparts the Qadiani-Ahmadi's. Ahmadi sources tell us that Khwaja Kamaluddin visited South Africa in 1926. By 1982, there was a court case against the Lahori-Ahmadi's vs. Indian Muslims who were working in South Africa for the British government. This controversy prompted the Al-Azhar University to issue a Fatwa of Kufr vs. all groups of Ahmadi's, Qadiani or otherwise. It should be noted that by 1982, the Qadiani-Ahmadi's hadn't penetrated South Africa, most likely because she wasn't a British possession. Nevertheless, South Africa was a racist state wherein the 20% minority europeans wouldn't allow native black people to own land. The Lahori-Ahmadi's seem to have won the case in 1985 wherein they were declared as Muslim. The Muslims in that case didn't even show up to court and called the entire proceedings as a farce. By 2020, the Qadiani-Ahmadi's did get access to South Africa and seem to own one mosque in Cape Town and another.
_____________________________________________________________________________________________1926
https://www.muslim.org/photos/sa.htm

The late Khwaja Kamal-ud-Din to come and speak in the Cape Town Civic Hall when he and Lord Headley visited South Africa at the invitation of some businessmen from Durban, Natal. They had much respect and praises for him and frequently published his articles and that of M.M. Ali in their local newspaper, the Azaan.
I have compiled some information about the visit by Khwaja Kamal-ud-Din and Lord Headley to Cape Town, Johannesburg and Durban. It is at this link.
I noticed that a newspaper in Cape Town, the Argus, reporting on a speech by Khwaja Kamal-ud-Din, wrote as follows:
This is an image from The Islamic Review, May 1926 (p. 166), where news items from South African newspapers about their visit are quoted.
It says that Khwaja Kamal-ud-Din "had the figure of a prophet, the face of an archangel…". I thought I would post this before our critics discover it themselves and accuse us of believing in Khwaja Kamal-ud-Din as a prophet and an angel!
_____________________________________________________________________________________________
1927
I am reproducing below some items from The Light, the English organ of the Lahore Ahmadiyya Anjuman, from December 1927 and January 1928 relating to Lord Headley's visit to India.
"Al-Hajj Lord Headley Al-Faruq, President-elect of the ensuing All India Tabligh Conference, is expected to disembark in Bombay on the 16th instant. He is expected to attend the Annual Conference of the Ahmadiyya Anjuman Ishaat Islam, Lahore." (The Light, 8 December 1927)
"The Rt. Hon'ble Al-Haj Lord Headley Al-Farooq, President-elect of the ensuing Tabligh Conference to be held in Delhi, has landed in Bombay on the 16th instant. He was given a reception befitting his position by Muslims. He will reach Delhi on the 24th and will come to Lahore on the 28th morning to preside over the annual gathering of the Ahmadiyya Anjuman Ishaat Islam." (The Light, 22 December 1927)
"We are glad to note that the Rt. Hon'ble Al-Haj Lord Headley Al-Farooq, the famous British Muslim peer, landed in Bombay on the 16th instant. It is a well-known fact that Lord Headley, who is a member of the white aristocracy of Britain, unlike most white people, does not entertain any colour-prejudice and deems himself equal to his Muslim brethren all over the world. Although he is now not in his youthful vigour, his energy and earnestness in the work of propagating Islam do not fail to keep pace with those of any Muslim; and he has already given clear proof of the fact. Born and bred in cold climate, he took a voyage to perform the pilgrimage to an arid land like Arabia in its hottest season. Again, not a very long time ago, he accompanied the Khwaja Kamal-ud-Din to South Africa carrying the mission of Islam. And now that the Muslims of India needed his noble services of presiding over the All India Tabligh Conference to be held in Delhi, he could not refuse their invitation on the plea of old age and has taken the trouble of travelling all the way from England. After the Tabligh Conference of Delhi he will preside over the Fourteenth Annual Conference of the Ahmadiyya Anjuman Ishaat Islam at Lahore where an address of welcome will be presented to him and where he will be led in a procession. We hope the whole Muslim community will appreciate his valuable services and show their appreciation in practice." (The Light, 22 December 1927)
"The All-India Tabligh Conference was held at Delhi for the first time on the 25th, 26th and 27th December 1927, under the presidentship of Al-Haj the Rt. Hon'ble Lord Headley Al-Farooq, under the auspices of the Central Jamiat Tablighul Islam, Amballa. Some important resolutions were passed." (The Light, 5 January 1928)
(At this link you can read his address to this Tabligh Conference.)
"Al-Haj Lord Headley came over to Lahore on December 28, 1927, where he was received with tremendous ovation by Muslims and then he drove in a wonderful procession through the walled city and some parts of the new city. Most of the Lahore Muslims of distinction joined the procession. After four hours the huge gathering dispersed at about 1 p.m." (The Light, 5 January 1928)
"On 28th December at 3-30 p.m. the Ahmadiyya Anjuman Ishaat Islam, Lahore, began its Fourteenth Anniversary celebration which continued up to December 30. The first meeting was held in the Islamia College ground, Lahore, which was attended by a large number of people.
In opening the celebration Maulana Muhammad Ali, President of the Anjuman, proposed Lord Headley to preside over it. His proposal was supported by Sir Muhammad Shafi and seconded by Maulvi Zafar Ali Khan and Sir Muhammad Iqbal. After this an address of welcome was presented to his Lordship who gave a suitable reply to it. His Lordship delivered a portion of his presidential address in English, the rest being read in Urdu as a large part of the audience did not know English. His Lordship attended the meetings on the following two days also and made two short but interesting speeches in the course of which he thanked his Muslim brothers and sisters for their kindness to him and expressed his love for them.
Several lectures were delivered in the last two days' meetings which were held in the mosque of the Ahmadiyya Buildings and attended by a large number of men and women. One of the speakers was Mr. Mohammad Fahmi, an Egyptian journalist, litterateur and poet of note, who is now on a scouting tour in India and who has become a member of the Anjuman." (The Light, 5 January 1928; bolding is ours)
At this link you can read Lord Headley's address to the Ahmadiyya Anjuman Ishaat Islam Lahore conference.
_____________________________________________________________________________________________
1950
https://www.muslim.org/sa-case/hist.htm
There has been a branch of the Lahore Ahmadiyya Movement in Cape Town since the late 1950s. The members of the association faced hostility from the local 'professional' Muslim religious leaders, as has been the situation in other parts of the world.
_____________________________________________________________________________________________
1965
https://www.muslim.org/sa-case/hist.htm
This opposition entered a new phase in 1965 when so-called fatwas or 'decrees' were first issued to the effect that Ahmadis were kafirs and outside the fold of Islam. After that, there was constant malicious propaganda against the Ahmadiyya Movement in books, pamphlets and newspapers published by the local Muslim religious bodies. The Movement and its Founder were portrayed in a grossly distorted form, and viciously ridiculed in literature of the worst possible taste. Cartoon caricatures of the Founder were frequently published to revile and mock him. Attempts were made to incite the Muslim public to exclude Ahmadis from their midst and impose a social boycott against them.
_____________________________________________________________________________________________
1980
https://www.muslim.org/photos/sa.htm
In 1980/81 Maulana Jaggoe from Holland visited our country. He urged us to change our name to the Ahmadiyya Anjuman Isha'at Islam (Lahore) South Africa, which we subsequently did. He also urged us to acquire our own premises for a Centre. On his departure, we immediately set in motion plans for raising funds for a Centre. We applied for a welfare number to allow us to raise public funds on a large scale. As required by law, we advertised our application in two local newspapers. When this news of our intentions reached the Maulvis, they became so incensed that they started on a full scale, what they called, 'jihad' against our Jamaat. Every mosque under their control was given instructions to preach against Ahmadis. Many pamphlets depicting Hazrat Mirza Sahib in the most vile way were widely distributed throughout the Province. Those politically motivated amongst them made such baseless allegations that we were abetting the apartheid regime in order to incite the public against us. A committee of ten was appointed by them to conduct a witch hunt and hound out Ahmadis.
_____________________________________________________________________________________________
1982
In 1982, a member of the Lahore Ahmadiyya Movement in Cape Town filed a civil suit against certain bodies of the Muslim religious leaders (principally, the MJC or Muslim Judicial Council) claiming that he is a Muslim and entitled to all the rights of a Muslim, but that these bodies are defaming him by branding the Lahore Ahmadis as unbelievers and apostates, and are also preventing him from exercising his rights as a Muslim because he is a Lahore Ahmadi.
After three years of pre-trial submissions, and the final hearings of the case in November 1985, the Lahore Ahmadis won the case. The MJC had the assistance and support of the foremost anti-Ahmadiyya Muslim religious leaders of the world, as well as leading legal experts from Pakistan (including judges of the highest courts of Pakistan), who went to Cape Town to fight the case, but they were unable to defend their stand-point and eventually withdrew from the case.
_____________________________________________________________________________________________
1984

In 1984, the famous Al-Azhar University issued a Fatwa of Kufr against the Qadiani-Ahmadi's and the Lahori-Ahmadi's. They declared the Qadiani-Ahmadi's as Kafir because of their belief in the continuation of prophethood. In terms of the Lahori-Ahmadi's, they were also declared Kafir, however, this was based on their denial of the miraculous birth of Esa (as). This was published in the Muslim Digest of Oct/Nov/Dec of 1984. This seems to be a newspaper in South Africa. We are unsure how many Ahmadi's were in South Africa in 1984.
_____________________________________________________________________________________________
Maulana Hafiz Sher Mohammad (centre) with senior advocate Mr. Edwin King (right) and junior advocate Mr. Colin Prest (left) after the completion of the case on 13th November 1985.
Given below is an image of the news-item from the front page of the Cape Times (Cape Town, South Africa) of 21 November 1985, reporting the Judgment of the Case.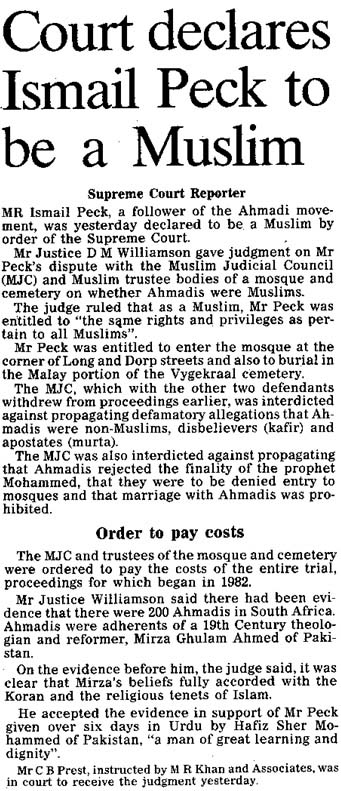 _____________________________________________________________________________________________
1987
In 1987, a book of 358 pages, entitled The Ahmadiyya Case, was published containing full details of the court case. The contents of this book (with some revisions) have been made available below:
_____________________________________________________________________________________________
1992
A series of articles is presented here relating to the outcome, in September 1995, of the appeal in the South Africa court case Sheikh Jassiem vs. Sheikh Nazim Mohamed and Muslim Judicial Council. This has been necessitated by the widespread propaganda and misrepresentation by various anti-Ahmadiyya organisations to the effect that this court judgment has recognised the authority of the so-called ulama to decide who is, and who is not, a Muslim, and that their declarations of Ahmadis as being non-Muslim have been accepted as legitimate by a secular court of law. It has even been claimed in press statements that "Ahmadis have been declared non-Muslim under South African law". (In this connection, to see the article go here).
_____________________________________________________________________________________________
2020
https://ahmadiyyatmosques.wordpress.com/south-africa/
 BAIT UL AWAL MOSQUE
THE BAIT UL AWAL MOSQUE
INAUGURATED:
LOCATION: CAPETOWN, SOUTH AFRICA
CAPACITY: 250 
THE BAIT UL AWAL MOSQUE IN CAPETOWN IS THE 1ST AHMADIYYA PURPOSE BUILT MOSQUE IN SOUTH AFRICA. THIS MOSQUE HOSTS VARIOUS EVENTS SUCH AS INTERFAITH DIALOUGES, CONFERENCES, PRAYERS AND ANNUAL JALSA SALANA.
_____________________________________________________________________________________________
Links and Related Essay's

https://www.muslim.org/sa-case/intro.htm
In 1984, the famous Al-Azhar university issued a Fatwa of Kufr for all groups of Ahmadi's
In 1984, the famous Al-Azhar university issued a Fatwa of Kufr for all groups of Ahmadi's
_____________________________________________________________________________________________
Tags

#ahmadiyyainsouthafrica #southafrica #capetown